(asked by Lilliem from the US)
I just read your blog, and I thought it was really cool and helpful! I do have one question though. I'm going on an exchange to France this summer as a student and staying with a host family. I have been a vegetarian for five years, you mentioned before that you and your friends were talking about it. I was just wondering, do you think that this would really affect my trip? I don't want to burden anyone, or freak anyone out!
Thanks!
Am I allowed to say "ass" in a title?
Mmm… What? Of course I can! Why did I even wonder? Something's telling me that's because I watch too much American TV that's why…
Where was I?
Oh yeah, vegetarians in France, same old, same old…
Well, Lilliem.
Two things come into play here.
First, recently the UNESCO did what it never did before; it designated a national cuisine as "intangible cultural heritage of humanity," that is the French one.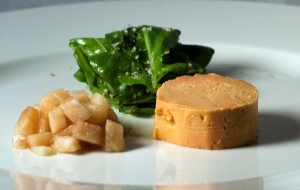 To make sure we're on the same page – I remember a commenter misunderstanding last time we talked about it – what we, the UNESCO and I, talk about here, is not the fancy schmancy overpriced cuisine that you will find in three stars restaurants. It is the every day meals and food most French people consume on a more or less daily basis.
And, do you know why French cuisine/food/meals/call-it-what-you-want is among the best cuisines in the world (and officially recognized as such now)?
Because it respects two things.
First, it respects the food itself (although, evil corporations like Monsanto are trying to take France over more and more, just like they've taken over a big chunk of food resources in many other places, more on them another day maybe).
By that I mean, the quality of the food matters a lot (and no, quality is not synonym with low fat, it is synonym with as natural as possible, among other things).
Then, it respects the human body.
See where I'm going there?
Yes, evolution made us humans omnivorous beings. It is most likely one of the reasons why we ended up on top of the evolutionary ladder. You know what's good with being as little specialized as possible when it comes to food? If your food source disappears, you don't disappear with it. How long do think Pandas and Koalas will last if bamboos or eucalyptus (respectively) disappear?
When you can eat many different things, your species simply can't be wiped out because of lack of your source of food. And I'm not even going to go into the most technical aspects of being omnivorous (energy efficiency, ratio of time spent eating/looking for food/doing other things, etc).
Remember, in "survival of the fittest" people very often misunderstand "fittest" as "strongest." This is not what it means. It has nothing to do with strength, the "fittest" here, means the most adaptable, the one that "fits" the situation the best, not the one that spent the most time at the gym. And when it comes to food, fittest means being as omnivorous as possible.
In other words, humans are omnivorous by nature, there shouldn't even be a debate about it, and how some people can deny their own nature when it comes to eating is beyond not only my comprehension, but is also insulting to our very distant ancestors who brought us where we are now thanks to them eating animals and plants! Not just one or the other.
And French cuisine acknowledges that.
French cuisine understands and respects human nature, and this is why it is one of the best in the world.
Actually have you noticed that vegetarians are a rarity in countries where cuisine is the best and where good food is a big part of the culture and everyday life?
I know very little French vegetarians, and all of them are not exactly right in their head (I don't blame nor mock them, you don't blame nor mock sick people, but for most of them being a vegetarian is more an eating disorder than anything else). I don't know any Chinese, Japanese, Vietnamese vegetarians, and incidentally, they happen to also have some of the best cuisines in the world.
Worst national cuisines? Definitely the Anglo-countries. Biggest percentages of vegetarians? Anglos? Coincidence? I think not.
That was the first reason why you should leave this vegetarian nonsense aside when you're in France.
The second reason is even simpler, and is definitely not up for debate (because I assume I will receive a certain number of interesting comments about that first part).
You said you were going to stay with a host family.
Well, in this case, your situation cannot be simpler food-wise. You stay at somebody's place; you eat what they cook for you. End of story.
Being picky when you're a guest is simply seen as being extremely rude in France. It is one of the things that will instantly label you as a "stupid spoil brat," and which will most likely make your hosts lose all respect for you, and even worse, it will reflect on your whole country.
So if you go stay with a French host family, my very first advice will be: you eat your steak and snails and you shut up or don't bother going at all.