(asked by Larry from Australia)
I saw in a previous post another Australian was talking about Protestantism and the Reformed Church of France. Although, as you said, French are either generally ambivalent or hostile towards religion, how do they feel about the historic treatment of the Huguenots and events such as the Saint Bartholomew's Day Massacre? Are there feelings of guilt or remorse amongst the population, apathy towards these events, or just a feeling that it was entirely the fault of the Monarchy and Catholics, one of which has now been eliminated and the other effectively neutered by the Separation of Church and State?
Are people generally interested in the Huguenots as a movement or is there such a strong aversion to the damage caused by the Wars of Religion that the whole period is distasteful to most people? I imagine the whole thing must be somewhat ambivalent because, despite the enormous damage and suffering caused by the Wars of Religion, Henri of Navarre (Henri IV) emerged from it and, as I understand it, is regarded as a great king.
I have to admit Larry that I find this question to be a little strange. But I guess it makes sense that someone interested in history and coming from a "protestant country" would ask it.
The thing is that I'm not too sure how to answer it. I guess the part that makes me wonder is "the treatment of the Huguenots."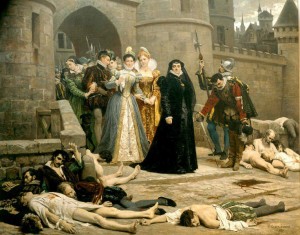 I'm not sure how and what you learned about the 16th century Wars of Religion in France (as this is what we're talking about here for those of you who had no idea) but we cannot reduce it to an oppression and a massacre of the Protestants by the Catholics. We're not in a situation here that would be similar to genocide or something along those lines, with defenseless Protestants against blood-thirsty, armed and violent Catholics.
We're talking about a war that lasted a few decades (about 40 years if I'm correct). The Catholics came out as the victors, but it could as well have been the Protestants.
Yes, the Catholics were armed, violent and bloodthirsty, but so were the Protestants.
The Saint Bartholomew's Day Massacre (I advise you to read the French page in Wikipedia if you can, it's better, the English page considers as fact things are just hypotheses at times) is one of the most famous events of this war, but while it took place in a quite unique context (while King Charles IX and his mother Catherine de Medici trying to end the war, just after they married Henri de Navarre and Marguerite de Valois, etc.), in Paris, and involved a lot of "important" people, it is just one of the many massacres that happened during that time. There have been similar massacres in Protestant strongholds, but maybe they're not as famous because they didn't take place in Paris, nor in a "famous" context.
And let's not forget that in Protestant areas, many Catholics were as oppressed and massacred as Protestants were in Catholics area.
But all in all, nowadays, it is understood that this civil war was as political as it was religious, if not more, and I think that in France it is regarded as just one of the many episodes of French history. It's not seen as special or anything, and I don't know anybody that has strong feelings, one way or the other, about it. Maybe it has been "toned down" over the years in the educational system, mostly because it is the main civil war we have had in France and well, when kids learn history, it's always a very "patriotic" version of it with France being portrayed as the good guy in every situation (just like it is the case in any other country), so in this context, hard to spend too much time on an episode where French people were at war against other French people.
I think what I find interesting in your question (and it is the reason why I'm having trouble answering it) is that you insist of French people's "feelings" in it.
Personally I find it odd that anybody would have any feelings about events that took place more than 400 years ago. It is just one of the many episodes of French history, no more no less.
Also I don't think French people nowadays have any feelings, good or bad towards Protestants back then. They're just seen as one faction in the war, that's pretty much it. Massacred at times, and murderers at other times.
More Questions Answered: